The Blind Pro Window Coverings and Awnings is proud to offer top quality window treatments with special care for your budget in mind. Among the brands The Blind Pro installs and services, you'll find top names like Hunter Douglas, Alustra Collection, Eclipse Awning Systems, and Sunair Awnings and Solar Screens.
Silhouette Window Shadings
Silhouette window shadings offers a distinct control on lighting with ease and beauty through the use of fabric and the Hunter Douglas Signature S-Vane. Using a tilt feature, you can control the level of privacy and maintain UV protection. Silhouette Window Shadings complement well with Luminette Privacy Sheers.
Nantucket Window Shadings
Nantucket window shadings are a collection found within the Silhouette Window Shadings and are ideal for rooms that receive direct sunlight. These shades diffuse the exterior light while keeping the views to the outside world visible while maintaining interior privacy.
Luminette Privacy Sheers
Luminette Privacy Sheers with PowerGlide from Hunter Douglas use fabric to offer your home trend setting fashion, classic, or contemporary window covering flavor. With over 72 material and color combinations, Luminette Privacy Sheers help diffuse sunlight into a room, which allows your room to experience natural lighting.
Vignette Traditional Shades
Vignette Traditional Shades with UltraGlide make a bold statement in any home. With a huge array of almost 500 material and color options, Vignette Traditional Shades will be as unique as your personality. Do you have children in your home or visiting? Vignette shades from Hunter Douglas roll, stack, and traverse with no exposed rear cords, enhancing child safety.
Alustra Collection
Alustra Duette Architella Honeycomb shades from Hunter Douglas offer an energy efficient solution for larger glass areas on your home, such as patio doors, glass sliding doors, and multiple, large walls of windows. Duette Architella Honeycomb shades offer many ways to easily raise, lower, and open the shades, from using the Hunter Douglas Ultraglide system, Easy Rise system, motorized system, cordless side to side opening, or top down, bottom up, or both opening.
Alustra Collection Blinds from Hunter Douglas is proud to offer unique fabrics, attention to detail, custom window combinations, all inspired with design in mind. When you think of the true art of window coverings in a well-designed home that pays attention to detail, think of the Alustra Collection.
Applause Vertiglide Honeycomb Shades
Applause Vertiglide Honeycomb shades from Hunter Douglas are ideal if you are looking for window treatments that are energy efficient and can cover large doors or windows. These shades utilize Hunter Douglas' Vertiglide system for user-friendly operation. These shades also can be motorized. Ask Mike or Vicki at The Blind Pro about the enhanced child safety with Applause Honeycomb Shades!
Designer Screen Shades
Designer Screen Shades from Hunter Douglas celebrate function and beauty as one. Do you have furniture or fine art you'd like to protect? These shades deliver outdoor visibility, while at the same time protecting your valuables from UV damage.
Provenance Woven Wood Shades
Provenance Woven Wood Shades from Hunter Douglas help any home by adding rich depth through the use of natural fibers such as wood, reed, and bamboo. These shades will age tastefully along with your home. Hunter Douglas also offers solid wood blinds made from 100% hardwood.
Everwood TruGrain Alternative Wood Blinds

Everwood TruGrain blinds from Hunter Douglas are perfect for home owners in Skagit Valley and beyond looking for alternative wood blinds that still retain a natural appearance. If you have a room that is continuously heated or has moisture, Everwood TruGrain alternative blinds are a good solution.
Modern Precious Metals Collection
Modern Precious Metals Collection from Hunter Douglas includes Reveal blinds featuring MagnaView. This design is able to offer two times the view-through visibility compared to other blind systems. If you are looking for a sleek, modern blind with a classic feel, consider Modern Precious Metals aluminum slant blinds.
Interior Shutters from Hunter Douglas offer a wide range of versatility to cover any window or door you desire. You can choose from a multitude of operational systems. The Blind Pro installs Heritance hardwood shutters, NewStyle hybrid shutters, and Palm Beach polysatin shutters.
Sunair Awning and Solar Screens
Exterior Solar Screens from Sunair Awning & Solar Screens offer an energy efficient solution to eliminate glare and unwanted sunlight while maintaining the advantages of natural sunlight. These motorized retractable solar screens operate at the touch of a button to lower or raise at a moment's notice, ready to protect your furniture, curtains and other valuables sensitive to damage from the sun's harmful UV rays.
Retractable Awnings from Sunair Awning & Solar Screens offer a variety of positions to provide your home with as much, or as little, sunlight as you desire. Retractable awnings are fully retractable, eliminating the need for seasonal storage during the winter months Skagit, Island and Whatcom County often experience.
Exterior Rolling Screens from Sunair Awning & Solar Screens have the ability to reduce indoor temperatures, lowering your home's interior cooling cost! Imagine a fabric that blocks up to 90% of solar heat rays, and you'll begin to imagine the power of retractable exterior solar screen systems. New in 2013 is Sunair Awning & Solar Screen's Magnetic Locking System. This system helps keep your screen's fabric flat and smooth.
Exterior Rolling Shutters
Talius rollshutters are the ultimate solution when you want to protect your windows and, more importantly, what is behind them.
Talius security rollshutters are strong, secure, and durable. They glide easily into place when you need them and retract into a convenient overhead box when you don't.
Their rollshutters are easily operated with either manual or motorized control and can be tailored to harmonize with any home or business exterior to create a truly cohesive appearance.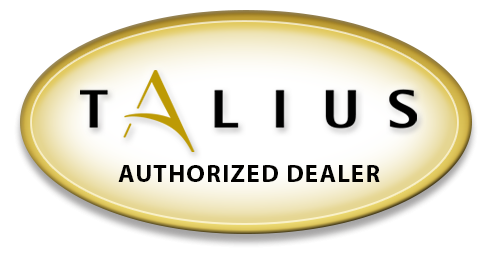 Eclipse Retractable Awnings and Solar Shades
Are you looking for custom solar protection with a retractable solution? Eclipse Awning and Solar Shades help protect your family, your home, or business, from damaging UV rays.
Throughout Skagit, Island, Whatcom, and Snohomish County, people living in the Pacific Northwest are no stranger to light rains. Not only will Eclipse Shading Systems keep you dry during wetter days, but will also protect your home by reducing heat in your home during the summer months.
These awnings and shades are completely customizable. Mike and Vicki at The Blind Pro can size your awning or shade to any dimension you need.